Stanley alternatives
If you're on the hunt for a durable, well-designed travel tumbler, but the Stanley Adventure Quencher Travel Tumbler isn't quite your cup of tea, there are several other excellent alternatives on the market.
YETI Rambler Tumbler
YETI is a popular brand known for its rugged and efficient drinkware. The YETI Rambler Tumbler is a reliable choice, with double-wall vacuum insulation to keep your drinks hot or cold for hours.
Hydro Flask Travel Coffee Flask
The Hydro Flask is praised for its excellent insulation and stylish design. It's made from pro-grade stainless steel to ensure pure taste and no flavor transfer, and the secure lid makes it easy to take on the go.
Contigo AUTOSEAL West Loop Stainless Steel Travel Mug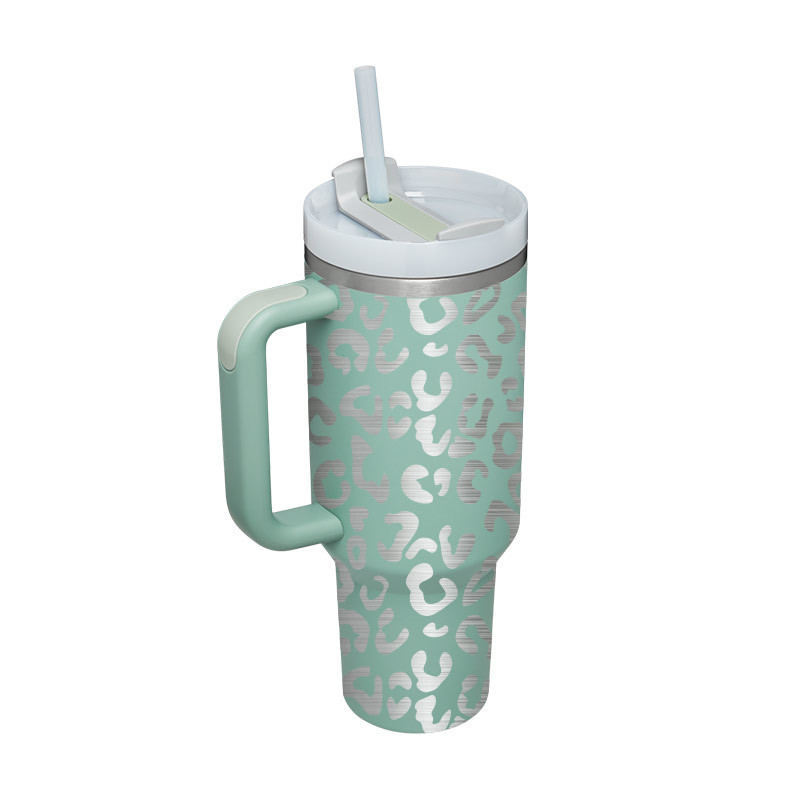 This travel mug from Contigo features innovative AUTOSEAL technology, which automatically seals the lid between sips to prevent leaks and prevent spills more water too. Plus, its thermalock vacuum insulation keeps beverages hot for up to 5 hours or cold for up to 12 hours.
Zojirushi Stainless Steel Mug
Zojirushi is known for its superior insulation technology. The compact design takes up minimal space while maximizing capacity, and the flip-open lid protects against spills.
Thermos Stainless King Travel Tumblers
This Thermos tumbler offers a classic tumbler design with modern technology. Its vacuum insulation technology keeps beverages hot for up to 7 hours or ice cold water around for up to 18 hours.
These are just a few of the many great alternatives to the Stanley Adventure Quencher Travel Tumbler. Each has its own unique features and advantages, so you can find one that perfectly suits your needs. Remember, the best travel tumbler is the one that serves your needs, fits your style, and makes your day a little brighter!
40 oz tumbler vs. 30 oz: Is the 30 or 40 oz Stanley cup better?
Choosing between a 40 oz and a 30 oz Stanley tumbler largely comes down to personal preference and lifestyle needs. Each size has its own merits and potential downsides. Here's a comparison to help you decide which is a better fit for you.
40 oz Stanley Cup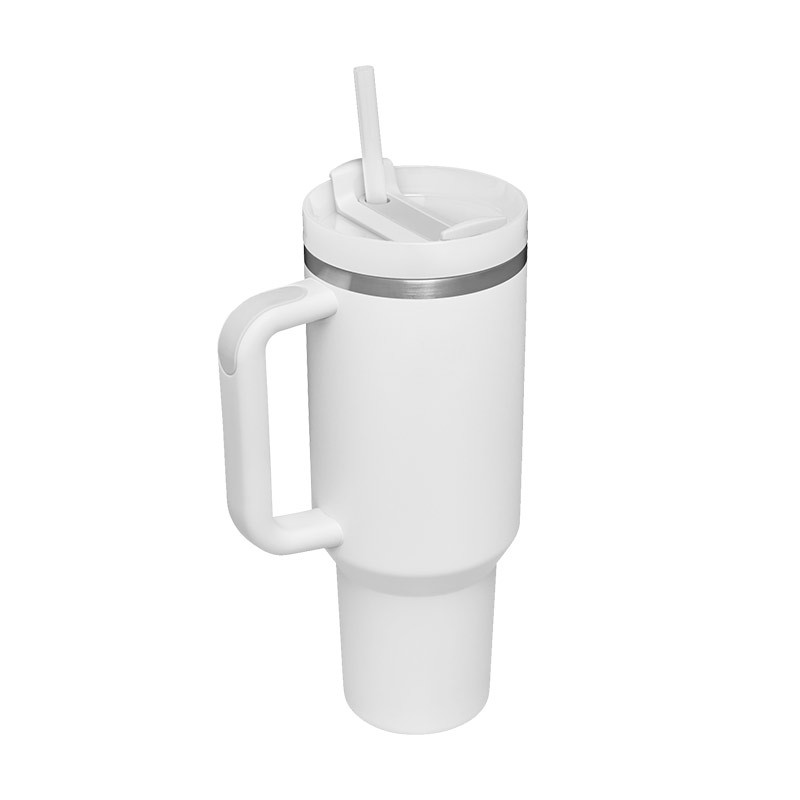 Pros:
Higher Capacity: The 40 oz Stanley Cup can hold more liquid, which is ideal if you're planning to stay hydrated throughout the day without frequent refills.

Ideal for Larger Drinks: If you're a fan of big iced coffees, smoothies, or enjoy more substantial hot drinks, the 40 oz size can cater to those needs.
Cons:
Size: Given its larger capacity, the 40 oz Stanley Cup is physically bigger. This might make it more challenging to fit in standard cup holders or smaller bags.

Weight: When filled, a 40 oz tumbler can get quite heavy, which might not be ideal if you plan to carry it around a lot.
30 oz Stanley Cup
Pros:
Compact Size: The 30 oz Stanley Cup is more compact and can comfortably fit in most standard cup holders and backpack pockets.

Lighter: Even when full, a 30 oz Stanley Cup is lighter and easier to carry around than its larger counterpart.
Cons:
Lower Capacity: With a lower capacity, you might find yourself needing to refill your drink more often, especially if you're consuming beverages like water, iced coffee, or smoothies throughout the day.
At the end of the day, both the 40 oz and the 30 oz Stanley Cups have their pros and cons. The choice between the two sizes depends on your lifestyle, drinking habits, and the practicality of carrying the tumbler around. Are you someone who prefers a larger drink, or do you prioritize convenience and portability? The answer to these questions will help you choose the right Stanley Cup size for you.
Don't buy the 40 oz Adventure Quencher. Get this instead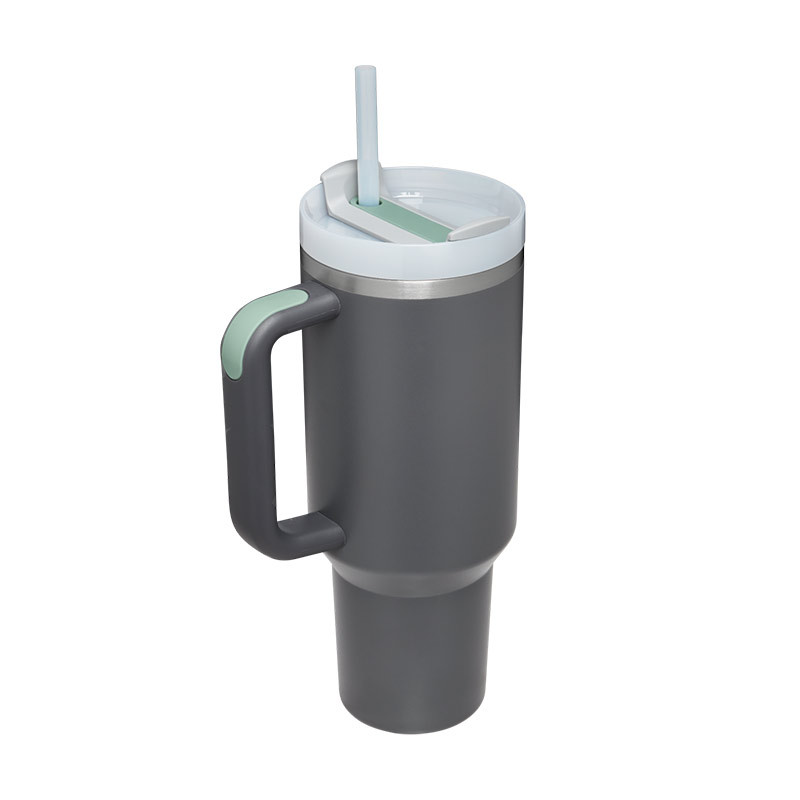 If you're reconsidering your decision to buy the 40 oz Adventure Quencher, then the YETI Rambler 36 oz Bottle quencher could be a worthy alternative. It might be slightly smaller in size, but the YETI Rambler packs a punch with features that make it a great choice for a travel tumbler.
YETI Rambler 36 oz Bottle
Outstanding Insulation: The YETI Rambler has double-wall vacuum insulation that provides excellent heat and cold retention. Your beverages will stay hot or stay ice cold, for hours, which is perfect for those long hikes, road trips, or workdays.
Durable and Robust: YETI products are known for their durability. The Rambler 36 oz Bottle is made from kitchen-grade stainless steel, making it resistant to dents, dings, and rust.
Leakproof Cap: The bottle comes with a TripleHaul™ leak proof cap, making it 100% leakproof. This leak proof cap is designed for easy carrying and ensures that your beverage won't spill, even on rough journeys.
Easy to Clean: The YETI Rambler is dishwasher safe, which simplifies the dishwasher cleaning process. There's no need to scrub the dishwasher by hand; simply the dishwasher and pop it into the dishwasher.
Variety of Colors: The YETI Rambler comes in a wide range of colors, so you can choose one that suits your personal style.
While the Adventure Quencher is a solid product, the YETI Rambler's reputation for excellent insulation, durability, and convenient features might make it a better option for your needs. Whether you're exploring the great outdoors or commuting to work, the YETI Rambler can keep your beverages at the perfect temperature all day long.
How do I get a Stanley Adventure Quencher 40 oz? (without paying above retail)
Getting your hands on a Stanley Adventure Quencher 40 oz tumbler without paying above retail price can be achieved by following a few key strategies:
Official Stanley Website
The first and most straightforward method is to purchase directly from Stanley's official website. They sell their products at the manufacturer's suggested retail price, and you can often find sales or discounts.
Reputable Retailers
Many large, reputable retailers such as Amazon, Walmart, or sporting goods stores carry Stanley products in stock. It's essential to watch for sales and discounts and stock up to get the best price.
Price Tracking Tools
Consider using price tracking tools like Honey, CamelCamelCamel, or Keepa, especially for anything sold on platforms like Amazon. They can alert you when the price drops to or below the retail price.
Email Notifications and Social Media
Sign up for email notifications from Stanley and follow them on social media. Companies often send out information about sales, special deals, and new product releases to their subscribers first.
Holiday Sales

Major sales events, like Black Friday, Cyber Monday, or post-holiday sales, are great times to snag deals at or below retail price. Be ready to act fast, as these deals can sell out quickly.
Buy in Store
If you can find a physical store that stocks the Stanley Adventure Quencher 40 ounce, you might be able to avoid inflated online prices. Plus, you can inspect the product in person before buying.
Remember, patience and vigilance are key when trying to buy a popular item at retail price. Happy shopping!
her colors Stanley Quencher

Stanley Adventure Quenchers are available in a diverse array of colors to suit different styles and preferences. While the color availability may vary depending on the retailer and stock availability, you can often find the following colors:
Hammertone Green: A classic Stanley color, this muted green brings a retro outdoor vibe.
Matte Black: This sleek, neutral color is perfect for those who prefer a minimalist look.
Stainless Steel: The original, brushed stainless steel finish offers a timeless look.
Crimson Red: If you love bold colors, this vibrant red is an eye-catching choice.
Hammertone Navy: This unique soft matte, textured navy color adds a touch of ruggedness.
Ice: This frosty white cream color is clean, crisp, and cool.
Hot Pink: For those who love to make a statement, this bright, cheerful pink is hard to miss.
Hammertone Green: A classic Stanley color, this muted green brings a retro outdoor vibe.
Matte Black: This sleek, neutral color is perfect for those who prefer a minimalist look.
Stainless Steel: The original, brushed stainless steel finish offers a timeless look.
Navy Blue: This deep, rich blue is perfect for those who love cooler hues.
Crimson Red: If you love bold colors, this vibrant red is an eye-catching choice.
Hammertone Navy: This unique, textured navy color adds a touch of ruggedness.
Ice: This frosty white color is clean, crisp, and cool.
Hot Pink: For those who love to make a statement, this bright, cheerful pink is hard to miss.
These color options allow even more personalization for your Stanley Adventure Quencher. With a wide spectrum of choices from neutral tones to bright, vibrant hues, you can find a tumbler that's truly reflective of your personal style. Remember, color availability may vary based on location and retailer, so it's always a good idea to check what's currently in stock.
Vehicle Cup Holder Compatibility with Stanley Adventure Quencher

Stanley Adventure Quenchers, with their slim design, are generally compatible with a variety of vehicle and car cup holder holders. However, it's important to note that car cup holder and sizes can vary greatly depending on the vehicle make and model. Here's a general guideline:
Standard Car Cup Holders
Most standard car cup holders can accommodate the quencher tumblers up to a certain diameter. The Stanley Adventure Quencher tumblers, due to its tapered design, should fit in most car cup holders.
SUVs and Trucks

SUVs and trucks often have larger or adjustable cup holders. These should comfortably accommodate most cup holders on the Stanley Adventure Quencher.
RVs and Campers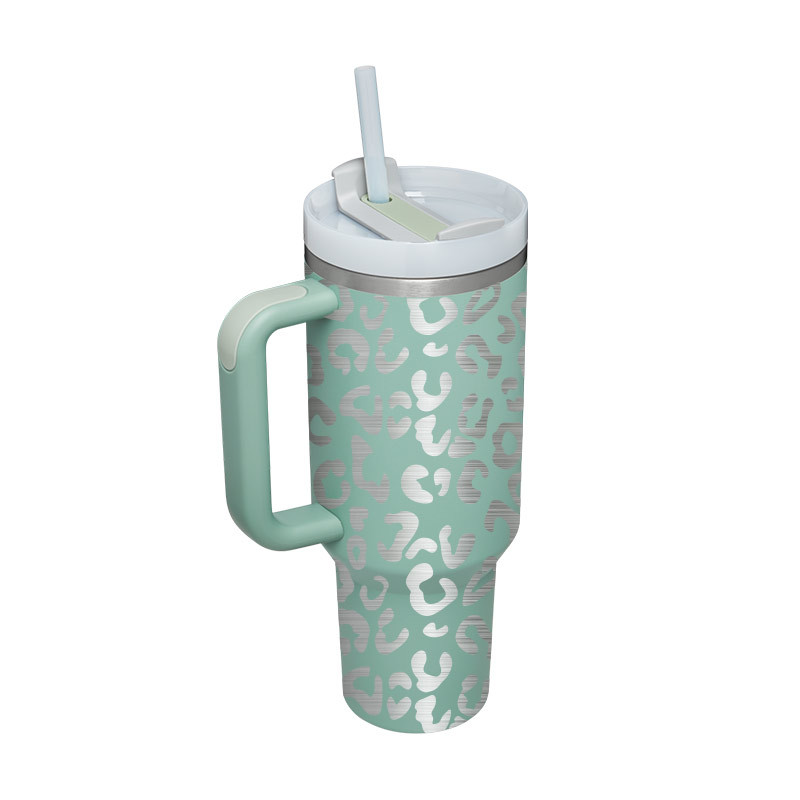 RVs and campers usually have ample space in their cup holders, and should be able to hold a Stanley Adventure Quencher with ease.
Remember that while Stanley Adventure Quenchers are designed to fit in a wide variety of cup holders, it's always a good idea to measure narrow base of your own drink or vehicle's cup holder and compare it to the tumbler's dimensions before purchasing. The Stanley Adventure Quencher typically has a base diameter of approximately 3 inches, but this could vary slightly depending on the specific model.
When in doubt, it's best to contact Stanley's customer service or consult and review your vehicle's manual for information about the cup holder sizes. Stanley is known for its excellent customer service, and they should be able to help you find the right fit for your needs.
Choosing the Right Straw Size for Stanley Cups

Choosing the correct size straw for your Stanley Cup is crucial to ensure a comfortable and effective drinking experience. The size of the straw you'll need depends on the size and model of your Stanley Cup.

If you're using a Stanley Adventure Quencher Travel Tumbler, you'll need a straw that can reach the bottom of the tumbler while also comfortably protruding from the top for easy access.

Considering that the Stanley Adventure Quencher Travel Tumbler is quite tall (particularly the 40oz version), you'll likely need a straw that is around 10-11 inches in length. This should provide sufficient length to reach the bottom of the tumbler, while also leaving enough straw above the lid for easy drinking.

In terms of diameter, a straw with a diameter of around 0.24 inches (6mm) should fit well through the lid hole of a Stanley Adventure Quencher Travel Tumbler. If you prefer wider straws for drinks like smoothies, a straw with a diameter of up to 0.5 inches (12mm) should also fit.

Please note, these are approximate measurements. For the best fit, consider purchasing a set of Stanley-branded straws designed to fit their products perfectly. Alternatively, you could measure the straw hole on your specific tumbler to ensure the replacement straw will fit.

Always ensure you choose a reusable straw made from safe materials, such as stainless steel, silicone, or BPA-free plastic, to ensure a safe and eco-friendly drinking experience.
Why are Stanley cups so popular?

Stanley Cups, particularly those in the Adventure Quencher line, have gained popularity for a variety of reasons. Here's what makes these tumblers stand out from the crowd:
1. Excellent Insulation:
Stanley Cups are renowned for their superb cold insulation capabilities. Thanks to the vacuum insulation technology, these tumblers can keep beverages hot or cold for several hours, which is a key selling point for many consumers.
2. Durable Construction: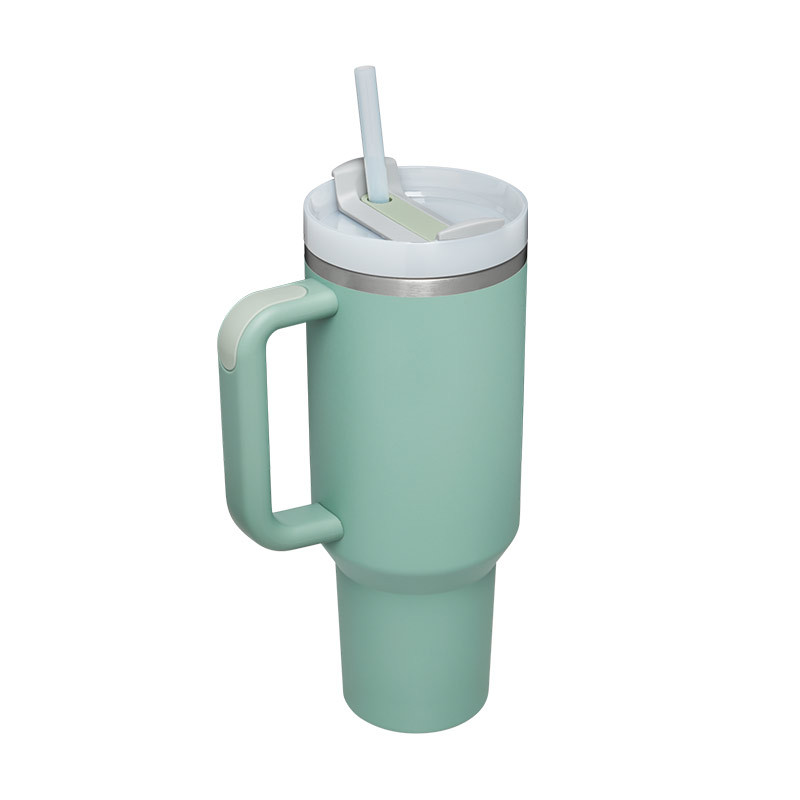 Stanley Cups are built to last. They are made of high-quality recycled stainless steel, that's resistant to rust and denting, ensuring they can withstand everyday wear and tear, as well as outdoor adventures.
3. Versatile Use:
Whether you're sipping coffee, hydrating with water, or enjoying a smoothie, Stanley Cups are versatile enough to accommodate and drink various types of beverages. They're suitable for daily use, travel, outdoor activities, and more.
4. Stylish and Customizable: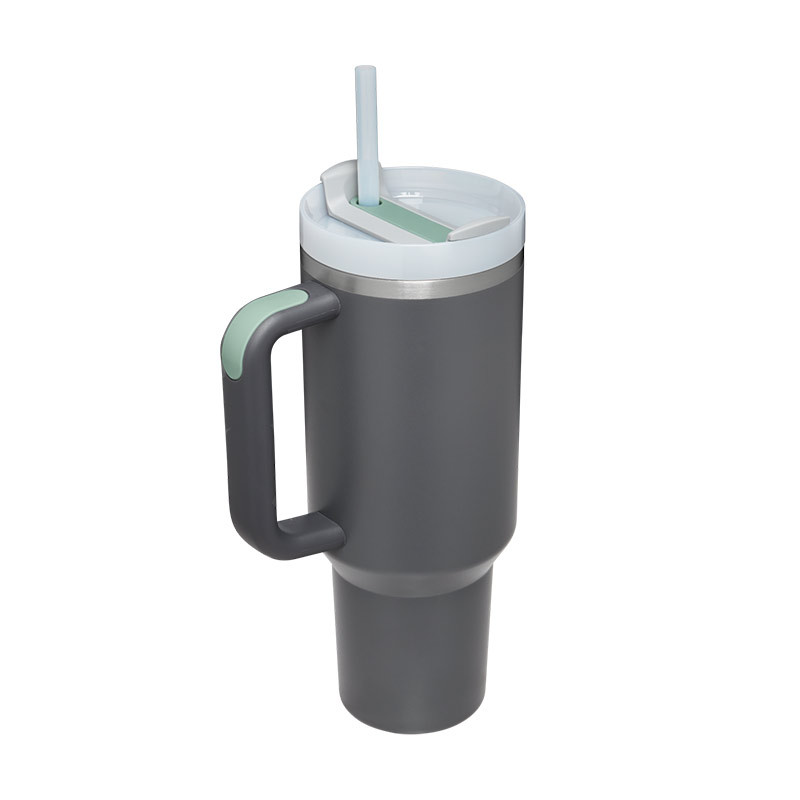 Stanley Cups come in various sizes and an array of vibrant colors, allowing users to choose the one that best suits their style and needs. Some models also feature a customizable lid system where you can switch between a straw lid full cover top and a flip lid full cover top.
5. Easy to Clean:
Many Stanley Cups are dishwasher safe, making dishwasher safe and cleanup a breeze. This convenience is a major plus for many users.
6. Environmentally Friendly:
Using reusable straw in a drink opening a Stanley Cup instead of disposable cups is an excellent way to reduce single-use plastic waste. This aligns with the growing consumer trend towards more sustainable and eco-friendly products.
7. Brand Reputation:
Stanley is a well-known and respected brand in the world of insulated drinkware. Their commitment to quality and customer satisfaction has earned them a loyal customer base, contributing to the popularity of their products.
In summary, Stanley Cups' popularity can be attributed to their high-quality construction, excellent insulation properties, stylish design, and the strong reputation of the Stanley brand.
Is the spill-proof lid sold separately?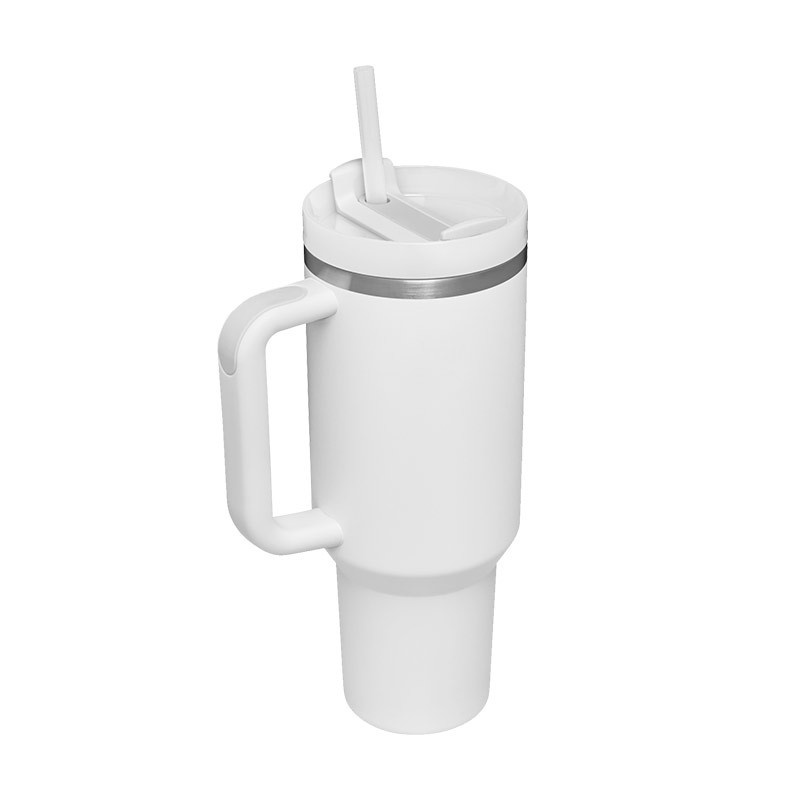 So, you're loving your Stanley cup, but you're wondering about the spill-proof lid, right? Can you buy one sold separately, or do you need to buy a whole new cup? Great question, let's clear that up!
Stanley is pretty awesome because they know stuff happens - lids get lost, accidents occur, life is messy! That's why they do offer replacement parts, which often includes lids, for many of their products.
Now, if you have the Stanley Adventure Quencher Travel Tumbler (it's a popular one!), it usually comes with a flip straw lid that's designed to be leak-resistant. But say you misplaced it, or maybe you just want an extra one because, well, why not? Your first stop should be the official Stanley website. They often have replacements available, and their customer service is super helpful if you have any questions.
Some Stanley cups even let you switch out the lids - how cool is that? So if there's a spill-proof lid that works with your cup, you might be able to buy it separately.
However, do keep in mind that it's always best to stick with Stanley parts for your Stanley cup. You don't want to risk your cup's performance or void any warranties by using unofficial parts.
If you're all about that spill-free life (because who isn't?), you might want to consider getting a cup with a locking lid. Or you could look into third-party options that are confirmed to work well with Stanley products. Just make sure they're safe and reliable before you buy.
So there you have it - it's definitely possible to get a leak proof spill-proof lid for your Stanley cup, you just need to check a few details first. Happy sipping!
FAQs
Is the Stanley Hot Pink Cupdishwasher-safe? Yes, the cup and lid are safe to be washed in a dishwasher, making cleaning a breeze.

Can I use the cup for both hot and cold beverages? Absolutely, the Stanley Hot Pink Cup's insulation works effectively for both hot and cold drinks, allowing you to enjoy your beverages at the desired temperature.

How long does the insulation keep beverages at the desired temperature? The cup's insulation can keep your drinks hot for up to 6 hours and cold for up to 8 hours, ensuring your beverages stay enjoyable throughout your day.

Is the pink color painted or coated? The vibrant pink color of the Stanley Hot Pink Cup is achieved through a durable powder coating, adding a stylish touch to its design.

Can I purchase replacement lids for the cup? Certainly, you can purchase replacement lids for your Stanley Hot Pink Cup to ensure its longevity and functionality.